Margaret Elphinstone
has published eight novels as well as short stories and poetry. Her fiction is mostly historical and is characterised by her portrayal of people on journeys to places on the edge – islands, frontiers - where cultures and ideas meet and evolve.
Spotted in Foyles of London - The Gathering Night is a 'Staff Pick':
"I can't understand why Margaret Elphinstone isn't better known - she's a stunning writer with a knack for choosing really interesting themes for her work. This book, set in Mesolithic Scotland, is my favourite ...It's an absorbing, intelligent read, and a vivid and meticulously-researched picture of life in a time unimaginably distant from ours."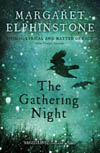 THE MOST RECENT NOVEL
The Gathering Night
, set among the hunter-gatherers of Mesolithic Scotland, is a story of conflict, loss, love, adventure and devastating natural disaster. This pre-historical novel is set deep in our stone-age past, but resonates as a parable for our troubled planet 8000 years on.
Read the reviews in full
about writing a prehistoric novel and read the reviews.
BOOK WEEK SCOTLAND 2013
Margaret Elphinstone has two events in this year's Book Week Scotland programme, at The Bakehouse, Gatehouse of Fleet and Balloch Library, West Dunbartonshire.

RECENT PUBLICATIONS
Margaret Elphinstone's essay,
The Meniscus Moment
, is published in
Dark Mountain, Issue 4
edited by Dougald Hine, Nick Hunt, Paul Kingsnorth and Adrienne Odasso and published by theDark Mountain Project 2013. ISBN 978-0-9564960-3-4.
Margaret Elphinstone is a contributor to
Unstated
, a collection of essays on Scottish Independence edited by Scott Hames and published in December 2012 by
Word Power Books
[ISBN 9780956628398]
"...Other essays in Unstated - notably those by Denise Mina, Margaret Elphinstone, Kevin MacNeil and Christopher Whyte - resonate all the more powerfully after the vehemence of recent commentary."
The antiquaries and authors
In the September 2012 Newletter of
The Society of Antiquaries of Scotland
Margaret Elphinstone explains why historical novellists and antiquaries need each other. "The imaginative construction of the thoughts and experiences of those who lived in the past ought in no way to be a release from intellectual stringency."
EarthLines
EarthLines
is a new journal from
Two Ravens Press
dedicated to nature, place and the environment. Edition 2 carries an assessment by Margaret Elphinstone of Frank Fraser Darling's seminal Reith Lecture, "Wilderness and Plenty".
See other recent writing
"We Thought We Would Change the World" - Margaret Elphinstone's contribution to the 21 Revolutions project celebrating two decades of The Glasgow Womens' Library, can now be downloaded or listened to as a podcast.