Margaret Elphinstone has published eight novels as well as short stories. Her fiction, mostly historical, is characterised by people on journeys to places on the edge – islands, frontiers - where cultures and ideas meet and evolve.

"a canny graceful writer" "gilded with erudite detail" "hugely inventive"
"assured, attractive, innovative"
Moniack Mhor comes to Dumfries & Galloway! - Twice!
Scotland's Creative Writing Centre in the Highlands,
Moniack Mhor Writers' Centre
, is offering writing opportunities in the Southwest in September and October.
On Saturday and Sunday, 27 & 28 September, Margaret Elphinstone will be taking part in Moniack Mhor's "Writers' Surgery" in Wigtown.
And she will be back in Scotland's Book Town on Monday 13 October when she will be teaching a class on the Historical Novel.
Find out more about this and other forthcoming courses.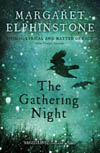 The most recent novel
The Gathering Night, set 8000 years ago among the hunter-gatherers of Mesolithic Scotland, is a story of conflict, loss, love and adventure in the aftermath of a devastating tsunami which swept through what is now the North Sea. New research has shed more light on the scale of the disaster.
Set deep in our stone-age past, this novel resonates as a parable for our troubled planet today. Read the reviews.
Find out about researching a Mesolithic novel
Recent writing
Douglas Thompson has just published a finely-worked novel, The Brahan Seer, based on the life of Scotland's most famous prophet. Margaret Elphinstone has provided the introduction, reflecting on the significance of the Seer's story today, irrespective of whether he ever existed.


Margaret Elphinstone's essay, The Meniscus Moment, is published in Dark Mountain, Issue 4 edited by Dougald Hine, Nick Hunt, Paul Kingsnorth and Adrienne Odasso and published by the Dark Mountain Project 2013. ISBN 978-0-9564960-3-4.

Margaret Elphinstone is a contributor to Unstated, a collection of essays on Scottish Independence edited by Scott Hames and published in December 2012 by Word Power Books ISBN 9780956628398
Find out more about Margaret Elphinstone's other writing