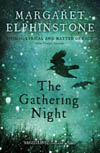 Set 8000 years ago in our stone-age pastThe Gathering Night resonates as a parable for our troubled planet.
Between Grandmother Mountain and the cold sea, Alaia and the rest of the Auk people live off the land. But when her brother goes hunting and never returns, the fragile balance of life is upset. Half starved and maddened with grief, Alaia's mother follows her visions and goes in search of her lost son. Then strangers from a distant tribe appear seeking shelter. Are their stories of a great wave and a people perished really to be believed?

The incomers precipitate suspicion and intrigue as their hosts use intuition and ritual to discover the truth. On successive nights in their gathering camp the Auk People hear the story from the lips of the participants. In a society at one with the animals it hunts, the story culminates with the hunter hunted and a ritual death in the western mountains.

A tale of conflict, love, loss and natural disaster, this drama brings to life our Mesolithic past. A celebration of wildness, The Gathering Night also resonates as an ecological parable for our planet 8000 years on.


The giant tsunami which swept through what is now the North Sea some 8000 years ago is the only historical event we know of in the Mesolithic period.
Recent research
has shed new light on the disaster which drives the plot of
The Gathering Night.
What the reviewers said about The Gathering Night
"This beguiling historical novel imagines the inner and emotional lives of Mesolithic-era humans …… Elphinstone's formidable depiction of nature is the greatest strength of this atmospheric novel."


Anita Sethi, Independent on Sunday



"...a meticulously detailed re-enactment of what life may well have been like in Mesolithic Scotland."


Rebecca McQuillan, The Sunday Herald



"...the most telling achievement of The Gathering Night is that it persuades us to accept its entirely different value-system without a qualm, and even to regret that humanity ever thought of swapping the hunter's spear for the tiller's spade."


Adam Thorpe, The Guardian



"...gripping in terms of plot...and a hugely evocative exploration of time and place."


Doug Johnstone The List



Read the Reviews
The Gathering Night reviewed in 'The Independent on Sunday' , The 'Guardian' , The 'Scotsman' , The 'List' and The "Globe & Mail', Toronto..



Spotted in Foyles of London - The Gathering Night is a 'Staff Pick':
"I can't understand why Margaret Elphinstone isn't better known - she's a stunning writer with a knack for choosing really interesting themes for her work. This book, set in Mesolithic Scotland, is my favourite ...It's an absorbing, intelligent read, and a vivid and meticulously-researched picture of life in a time unimaginably distant from ours."





Read Margaret Elphinstone's interview on The Gathering Night with Books from Scotland
Silent history
People have lived in what is now Scotland for some ten thousand years. For the first six thousand years – from the end of the ice age until the adoption of agriculture – they were hunter gatherers. Although this period – the Mesolithic – constitutes more than half our history, we know next to nothing of the lives led by our early ancestors. The archaeological record is minimal – a scatter of flint workings and some shell middens on remote shores. The only event known to have occurred in the entire period was a tsunami which struck the east coast of what is now Britain around 6150 BC. Margaret Elphinstone has used this disaster as the catalyst for the story revealed in The Gathering Night.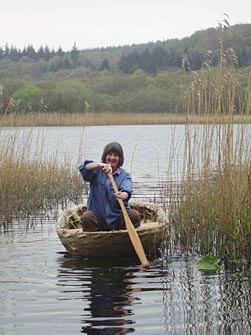 Researching a prehistoric novel
As with all her historical novels, Margaret Elphinstone undertook detailed research on the skills and artifacts her characters would have used.

It is known that Mesolithic people lived along the coasts and reached some of the Scottish islands. Although no trace of Mesolithic boats have been found in Scotland, evidence from other areas, and studies of hunter-gatherers elsewhere, suggest they would have used skin boats resembling coracles which have been used for fishing and transport in the British Isles until recent times.

Margaret constructed a coracle using willow and hazel and a cow skin at Peter Faulkner's coracle-making centre near Ludlow in Shropshire. The picture shows her paddling her coracle on a loch in Galloway.



Extracts from the author's 'Afterword'
Scant traces of our ancestors
There's little material evidence of the hunter gatherers of Mesolithic Scotland. The shell middens of Oronsay, caves near Oban and on Ulva, locations on Islay, Jura, Mull, Coll, Rum and Risga are the main west coast sites. Microliths – tiny stone blades and points – are indicative of a Mesolithic presence. Food remains and tools of bone, shell and antler, and a few postholes where tents were once pitched, are really all that is left. The only human remains are odd finger-bones from shell middens. There is nothing in Scotland like the fishing traps, villages or cemeteries of southern Scandinavia.

Religious practices
In a Danish Mesolithic grave a newborn child was found resting on a swan's wing. At Starr Carr in Yorkshire archaeologists unearthed stag antlers attached to a man's face mask. Their purpose remains a mystery; I've constructed my fictional narrative around them. There are no such indications of spiritual or symbolic life in Scotland. That could either be because soil conditions are too acid, or because burial practices were different. My premise, as a story-writer, is that wherever there are people there will be emotions, rituals, metaphors, stories, art... in other words, a constant search for meanings.

Hunter gatherer cultures all over the world share remarkably similar spiritual practices that express deep affinity to the land to which they belong. Shamanistic religions are closely allied to hunting economies.

My Go-Betweens' spiritual practice is based on my readings in shamanistic spiritualities from many different parts of the world. To be Go-Between is to enact a role rather than to belong to a class. Go-Betweens have their own sort of power, but it operates through the natural world, within an egalitarian society. Forms of social control in hunter gatherer societies sometimes strike me as being remarkably civilised and effective. However, if I'd been born 8000 years ago, I would almost certainly have had fewer years in which to enjoy the cultural benefits on offer.
The tsunami of 6150BC
In all the long years of Mesolithic Scotland, we know of only one definite historic event. This was the tsunami that struck the east coast following an underwater landslide off the coast of Norway in c 6150BC. I took this tsunami as the catalyst for my plot, and used firsthand accounts of the 2004 Boxing Day tsunami as the basis for Kemen's story.

Naming the characters
I use Basque names for my characters because, although no one has any idea what languages were spoken in Mesolithic Scotland, Basque is thought to be the only extant language of pre-Indo-European – which is to say, pre-agricultural – origin on the western seaboard of Europe.

People without maps
Most of my novels have maps. There's no map in this book, partly because sea levels have changed in complicated ways: land around the Scottish ice cap lifted up after the huge weight of ice melted, while sea levels everywhere were also rising. But more importantly, there shouldn't be a map because my characters imagined their land in other ways.
Publication details
The Gathering Night
is published by
Canongate
. ISBN 9781847672889
The second edition was published in 2010.
The Gathering Night has been published in German as
Die Nacht Jagerinnen
by Dumont and in Italian as
La Notte del Raduno by Einaudi.