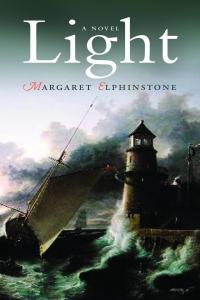 Light
Published by
Canongate
, Edinburgh
ISBN 978 1 84195 805 7
Light
is one of three of Margaret Elphinstone's novels which feature islands, reflecting her fascination with the subject. In
Waylaid by Islands
, published in the November 2007 edition of
The Bottle Imp
she recounts her enthusiasm for islands real and imagined.
Light
is set in the early 1830s on a small island off the Isle of Man. Two surveyors arrive to start working on a modern lighthouse to replace the ancient light which, for generations, has been tended by the only family on the island. The surveyors, who work for Robert Stevenson, the famous Scottish lighthouse engineer, are billeted with the family. Inevitably, misunderstandings and tensions arise. The women who keep the light see this new intrusion as a threat to their way of life. For their children it is both an adventure and yet another inscrutable display of adult behaviour. And for the surveyors it is simply another job, which suddenly becomes unexpectedly complicated.
When the weather changes and the surveyors are storm bound, relations on the island reflect the growing storm offshore. This novel features life on the edge, physically and culturally, as the traditional rhythms and values of a remote island society encounter the self-confident forces of the Edinburgh Enlightenment and advancing technology.
The Globe & Mail
(Toronto)
"If you are looking for a fast read, a wild plot, action-packed adventure, stay away from this book. It's as old-fashioned as the time in which it is set. It is slow and beautiful. 'Meandering' comes to mind. In 421 pages, Elphinstone covers only three days. The island glows poetically with beauty and wildness.
"This is a challenging novel because of its length and detail. But it is well worth the challenge. If you have time to sit quietly and concentrate, you will benefit greatly from immersing yourself in the strange culture of lighthouse keeping and in such an interesting time."
Michelle Berry
- read her full Globe & Mail, review
Booklist - USA
"In this moving depiction of a close-knit family learning to navigate overwhelming change, Elphinstone also brings alive the stark beauty of the island through her graceful, finely detailed descriptions of the wildlife and landscape."
Joanne WilkinsonThe Scotsman
"Ultimately, though, all facts can do is stitch a picture of the past together: they can't make it live. For that you need a sense of character, of how people will act in unpredictable situations. In
Light
, Elphinstone's handling of subjective reality is as assured as her control of the objective, historical world. Outwardly, little might seem to happen in the meeting between the men from the world beyond the island and the women of Ellan Bride. Inwardly, emotional landslides are ready to happen.
"As the two women go about their daily chores, Buchanan's survey of the island proceeds apace. tensions slowly rise. Through his telescope we chart its cliffs and contours; with his chains, we measure eveything on it that needs measuring. What he can never calibrate - family love, hope, remorse - is the real subject of the novel.
"Buchanan is a rationalist, about to join the
Beagle
voyage, and he's already got his doubts about creationism. 'If an island could be invented in the space of a night,' he tells the beautiful Deya, 'that would indeed be a miracle.' He's right about that, but if there's any miracle involved, it's not God's but Elphinstone's."
David Robinson
Read his full Scotsman review
SFGate - USA
"She bestows on all her characters strengths and flaws, creating a remarkably convincing reality.....Through the vehicles of these complex adults and children, of what they see and feel and love, Elphinstone conveys the ache of loss while balancing it with hope. Her ending is no simple wrap-up in which everyone lives happily ever after. In fact, Lucy will be standing in the lighthouse once more in the closing pages. She will have gone nowhere yet, but in the past few days, seen much further than the beam of light reaching across dark water."
Irene Wanner The Independent
"Margaret Elphinstone weaves a sparkling adventure from a few strands of (almost) fact in
Light
. The hugely inventive Elphinstone takes a fictitious islet off the Isle of Man as the pretext for an 1830s-set yarn that fuses history and fantasy into an exuberantly clever romp, swathed in the mist and spray of northern seas."
Boyd Tonkin Scotland on Sunday
"Elphinstone's tiny island of Ellan Bride, off the Isle of Man, is so well described, with even the inclusion of a hand-drawn map at the beginning of the novel, that it's a shock to realise that this is all a product of the author's fertile imagination and months of research.
"The novel is shaped, as is Woolf's To the Lighthouse, something like a musical sonata; the opening and closing sections featuring two men in a boat (exposition and recapitulation) frame the main body of the novel (development).
"Some of the most beautiful writing in this multi-viewpoint novel is seen through the eyes of the young; Mally, Diya's daughter, devastated by the news that the family will have to leave the only home she's ever known, stands on the beach with her mother where 'she knew, for absolute certain, that she'd remember this moment - the shining sky, the dark outline of her mother's head, the sun-touched cliffs of Hamarr, the circling puffins and the gleaming tower'. Which of us hasn't, at some point in our childhoods, had these vivid, shocking moments of clarity forgotten and then recalled decades later?
"Elphinstone's use of analogy is breathtaking: as hope fades and the family accept that they are soon to be evicted from their island, Mally stands on the beach with her mother and looks down 'as a bigger wave swirled around their feet. It made white lace-like patterns on the sand. Then it went away, and the lace-marks soaked away and vanished'".
Vanessa Curtis's
Read her full Scotland on Sunday review
The Times
"Like the surveyor, Elphinstone loves detail and accuracy. She builds her story of Ellan Bride and its tiny population from the rock upwards. The island is meticulously imagined, every place named and known, as if Elphinstone has climbed those cliffs herself, thrust her leather-clad hand into a puffin hole to catch her dinner, brought a yawl into the landing stonne, planted apple trees against a southern wall, shielded young vegetables from the sea wind and polished the lighthouse mirrors until they reflect eight miles out to sea..........Elphintone's research is so beautifully absorbed that the island just lives."
Helen DunmoreScottish Review of Books
"Margaret Elphinstone has hit on a perennial theme: the demands of Progress in opposition to the feelings and indeed the lives of those who obstruct its path. It is a good subject, that can be seen in a different form in, for instance, Iain Crichton Smith's fine novel of the Clearnaces,
Consider the Lilllies
; and it is a measure of Margaret Elphinstone's success that her novel doesn't suffer in the comparison. Its success lies in the thoroughness with which she has imagined her characters and in her ability to animate them - to make the argument immediate and personal, so that the reader is anxious about the outcome, engaged in the narrative. This is no mean achievement.
"It's a solid dramatic novel, in many ways old-fashioned in the manner of, say, George Blake or AJ Cronin - and none the worse for that."
Allan MassieSunday Herald
"...Elphinstone knows how to pen a tattling good read......
"As someone who has worked on lighthouses, I was struck by the accuracy of some of the detail. The dodgy business of getting from a small boat on to a landing rock at low tide, for instance....the endless routine of never letting the light go out. The endless noise of the kittiwakes, guillemots, puffins, gulls, razorbills and shags."
George Rosie
Back to Top
"Another bold step forward for a 'traditional' writer who seldom fails to make the long-ago and faraway seem as near as the matter of our own everyday lives."
Kirkus Reviews
Extract from Light
There was no time to think; they had to help. As Finn and Juan swung the cargo across, the two strangers Finn had brought with him caught each piece and heaved it up the rock. Automatically Diya, Breesha and Mally grabbed the bundles as they were dumped on the seaweed and carried them over the slippery rocks. And what extraordinary gear it was: a long wooden box, a roll of chain, a stack of poles roped together, a heavy wooden box with a lid. "Take care with that one!" the big fellow called as Breesha and Diya lifted the box between them. A portmanteau came up, and a canvas haversack. Mally picked up a black leather case. It was heavy, but she managed to heave it up on to the grass. Then came a sack of meal: that was more normal. And last of all: "It's the piglings!" screamed Mally, the strangers momentarily forgotten. "Finn, you've brought the piglings!"
"I have that, Mally, I have that!"
The crate with the piglets was heavy. Finn and Juan got it on to the gunwale. The next wave rose. Archie and Ben grabbed it by its rope and swung it across. On the slippery weed they managed to get their hands under the crate, and together they manhandled it up to dry rock. The piglets squealed furiously, and scrabbled about so the weight kept shifting. The woman was going to try to take the crate from them, but Archie brushed her off. "S'all right. This one's heavy." There were shouts from below. Archie and Ben shoved the crate up the last awkward step and dumped it on the grass.
When they looked round the
Betsey
was already half way out of the giau. Two pairs of oars were working furiously against wind and tide. The yawl was barely moving. It was going to be a damn close thing. Archie straightened up, brushing his coat sleeves, as he willed the boat to get off: Finn had done the job and got them ashore – he deserved not to be stuck here. They hadn't had time to discuss the likelihood of him getting back to collect them on Monday or Tuesday. Well, Finn knew what they wanted, and he'd come back when he could. Anyway, he still had another two shillings to collect. And there were so many things still to ask him…
The
Betsey
fought the swell at the mouth of the giau, hung in the balance, and came up into the wind. A minute later she hoisted her sail and headed off on the port tack. "That's it," said Ben. "They'll make it now. They'll get round the island while it's slack water, and beat back with the flood on the windward side."
Once the boat was under way Diya reluctantly turned inland. The two intruders were on the grass just above them, staring out to sea. They'd still be able to see the
Betsey
from up there. A moment later the boat must have vanished from their sight, because now the men were looking down at them.
Breesha pulled urgently at her mother's sleeve. "Shall I go and wake Lucy?" she whispered.
"Yes, go now. Quickly! And Breesha… put the broth back over the fire, so it'll be hot."
"We're not going to
give
them anything?"
"Indeed we are, Breesha veen. You must always be civil to the stranger at your door. You know that!"
"But not
these
…" Breesha remembered she wasn't supposed to know who they were. Better warn Mally not to give anything away either. But Mally, now that the flurry of activity was over, was clinging close to Mam, clutching a corner of Diya's old gardening pinafore, thumb in mouth, like a great baby. Mally had clung to Mam like that once before, when they'd gone ashore at Port St Mary last year and Mally had been so upset by the strange people. She'd kept saying "Who's that, who's that?" and Mam had kept on answering, "I don't
know
who it is, Mally veen. We don't know everybody!" Mally's voice had sounded so small and frightened, quite unlike her usual self, as she'd gripped her mother's cloak tightly in both hands. "But
why
don't we know them?
Why?
"
How
dare
these people come here now and frighten her sister? How
dare
they step ashore as if they had the right?
I want my Da!
Breesha's fists clenched tight with rage. Rage at Finn, for betraying them – bringing their enemies to the island, as if he didn't
know
! Rage at her Da, for not being here any more when they needed him. If her Da were here this couldn't be happening.
How dare you! How dare you not be here now! I hate you, Da! I hate you!
Breesha caught her breath with a shiver.
"Mam!" She tugged her mother's sleeve again. "Mam, will I go and find Billy?"
Diya was still staring numbly at the strangers standing up there on the island. She gave herself a little shake. "For what, Breesha veen?" she said. "Billy'll come soon enough. I told you to go and wake Lucy – and put the pot back on. Go on. I mean it, Breesha!
Now!
"
Breesha scowled, and suddenly ran, dodging past the invaders without a word of acknowledgement, and disappearing behind the Tullachen.
Diya came slowly up the rocks, holding Mally's hand so hard that it hurt. Her throat felt tight. She was trembling, but she willed herself to stop, or Mally would feel it through their clasped hands.
The time has come, Diya beti. Koi hai – is anyone there? He's waiting for you on the veranda. Your Father is here! Usually Father comes and sits on the veranda for a short time only. He brings presents - a doll, ribbons, bangles, metai. He asks what Diya has learned, has she been good, is she happy, is she well, is she clever? Yes, his little Diya is all of these things, and he smiles, and smiles again, and in a little while he takes his leave, as always. But not this time. This time Diya is going too. Her small square box is packed and tied with a strap. A label in English writing is tied to the strap. Because now Diya is leaving the safe place, the cool house, the hot garden with its enclosing walls and swept paths, the tank, the courtyard, the tamarisk tree, the borders filled with marigolds and Mittu the parrot. Goodbye, Aji, goodbye, my very own Ajoba. I never saw Aji weep before. Goodbye to all of you. Goodbye, Diya beti! But I didn't know then that it was goodbye for ever.
She looked so mournful, stepping over the slippery rocks, clasping her child's hand in hers. For the little girl was clearly hers. The child had the same brown skin, same delicate features. And when the two of them looked up at him, they had the same dark, unhappy eyes. Was it his fault? Was it their presence here that caused such sorrow? Archie stepped forward uncomfortably, and held out his hand to help the woman over the difficult rock step.
She ignored the outstretched hand, and jumped up easily on to the grass, the child following. When she stood facing him, her eyes were on a level with his own. Both woman and child gazed at him unwinkingly, and their eyes seemed to hold all the reproach in the world. "You will be the Commissioners of Northern Lights, I think?"
"Not in person," stammered Archie. She spoke like a gentlewoman. He hadn't expected that. She seemed perfectly collected, not nervous of him at all. It was just that her eyes were saying something so very different. He cleared his throat. "Archibald Buchanan, Ma'am, at your service. We're the surveyors employed by Mr Stevenson, the engineer. I believe you've been notified… you had a letter, I mean. You were expecting our arrival?" He hated himself for sounding so hesitant, but then, he was used to dealing with men, not beautiful women with dark eyes that looked at him as if he were a murderer.
"My sister had a letter."
"You're not…" He'd been about to say, 'Miss Geddes', but a woman with a child in her hand who was so clearly a replica of herself should obviously not be addressed as Miss.
"I am Mrs Geddes. My late husband was the lightkeeper."
Every word she spoke made it seem the more extraordinary that she was here. She was a lady. She spoke the King's English. Her skin was as brown as a hazelnut. She wore gold studs in her ears, and a sacking apron stained with soil. He saw that her hands were dirty, covered with earth in fact. She didn't take her eyes off him. Ben was standing right beside him, but she didn't even glance in his direction. She was steadfastly watching Archie.
She saw Archie looking at her hands. "You must excuse us, Mr Buchanan. We were working in the garden when my daughter saw the
Betsey
."
"Not at all." Everything she said somehow put Archie at a disadvantage. He pulled himself together. "I'm very sorry if our presence on the island inconveniences you at all, Ma'am. We're here to do the preliminary survey for the new lighthouse on Ellan Bride. We'll be staying for a couple of days. I believe the letter from the Commissioners asked you if you would be so kind as to accommodate us during our stay?"
"We've brought our own provisions," put in Ben suddenly. He smiled at the lightkeeper's widow. Trust Young Archibald to get on his high horse, just when you could see the poor woman, and her bairn too, were simply terrified. They weren't exactly the sort of people he'd been expecting, but that probably made it worse for them. Foreigners – that was obvious. He wondered how on earth they got to be here – how the hell had the Ellan Bride lightkeeeper managed to pick up anything this exotic? But that was of no consequence just now. Brown-skinned Mrs Geddes might be, but she'd turn men's heads in the Canongate. The effect in this remote place, and with the child clinging like a little elf at her side, was quite unnerving. But Ben felt sorry for her more than anything. "We'll try not to get in your way too much, missus. We'll be out all day. But a roof over our heads at night – that's all we'll need, and I hope we won't be a trouble to you."
The big, ugly man was much the nicest, thought Mally. She sneaked a look up at Ben, who caught her eye and winked. Mally looked down, shrinking back against her mother's skirts.
And yet Ben had seen the wee lass jumping up and down, squealing with delight at the boatman when he offloaded the pigs. Ben grinned at Mally and said, "Shouldn't we be letting the grice – the pigs – out of that box, don't you think? They've been cooped up in there a long time."
Mally glanced at the crate, and looked wide-eyed up at Ben.
"If you tell me where to take them, I can carry them up for you."
Mally looked at Mam. Mam said, "You show him, Mally."
It was too hard to speak to a person Mally had never seen before in her life. He wasn't like anyone she knew. But Billy had freckles too, in the summer, and when the man smiled it seemed to remind her just a bit of another smiling face she'd once known well, but couldn't quite remember. Mally, still holding Mam's hand, but not so hard now, pointed dumbly towards the house. Ben followed her pointing finger. You couldn't see the house from here; it was hidden behind the Tullachen, a low green knoll between the jetty and the garden. Mally would have liked to explain that to Ben, but it would have meant speaking to him, and that she couldn't quite do. Not yet.
"Come up to the house, gentlemen," said Diya. "You'll be hungry, and there's broth on the fire. You won't have had any dinner. Mally, show the kind man where the piglings are to go."
"Ben," said Ben, introducing himself. "Benjamin Groat, missus. And what's your name, young lady?"
Mally opened her mouth to whisper, but the obstinate words wouldn't come out.
"This is my daughter Mary," Diya said. "We call her Mally. You must forgive her, Mr Groat. We don't usually see strangers here."
Diya gave Mally a little push, and watched her silently lead Ben away. She turned to pick up one of the sacks.
"Shall I take that for you?"
"I can manage it, thank you." Diya swung the sack of oatmeal on to her shoulder. "Perhaps you should bring that case of yours; you don't want your papers to get wet."
How did she know the black leather case held his drawing materials? And where did she get the strength to heave a sack like that, apparently without any effort at all? Archie, temporarily as bereft of speech as Mally, picked up his drawing-case and portmanteau, and let Diya lead the way. He noticed as he followed her that her feet were bare, and begrimed with garden soil, as was the hem of her old print gown. The path wound between rushes and cotton grass. She left her bare footprints firmly imprinted in the mud as she walked. Archie trod over them in his heavy boots; the path was narrow and there was no avoiding them.
Back to Top
Back to Home Page