Essays and articles
Margaret Elphinstone's essay, The Meniscus Moment, is published in Dark Mountain, Issue 4 edited by Dougald Hine, Nick Hunt, Paul Kingsnorth and Adrienne Odasso and published by the Dark Mountain Project 2013. ISBN 978-0-9564960-3-4.

Margaret Elphinstone is a contributor to Unstated, a collection of essays on Scottish Independence edited by Scott Hames and published in December 2012 by Word Power Books [ISBN 9780956628398]
"...Other essays in Unstated - notably those by Denise Mina, Margaret Elphinstone, Kevin MacNeil and Christopher Whyte - resonate all the more powerfully after the vehemence of recent commentary."

The antiquaries and authors
In the September 2012 Newletter of The Society of Antiquaries of Scotland Margaret Elphinstone explains why historical novelists and antiquaries need each other. "The imaginative construction of the thoughts and experiences of those who lived in the past ought in no way to be a release from intellectual stringency."

EarthLines
EarthLines is a new journal from Two Ravens Press dedicated to nature, place and the environment. Edition 2 carries an assessment by Margaret Elphinstone of Frank Fraser Darling's seminal Reith Lecture, "Wilderness and Plenty".

The Unknown Island, an essay by Margaret Elphinstone, is published in Isolated Islands in Medieval Nature, Culture and Mind edited by Torstein Jorgensen and Gerhard Jaritz and published by Central European University Press, Budapest, 2011. ISBN 978-615-5053-24-5

Walking the Edges
Margaret Elphinstone's Walking the Edges, an account of walking in the Scottish mountains, appears in A Wilder Vein, an anthology of literary non-fiction focusing on people and wild places, edited by Linda Cracknell and published by The Two Ravens Press.

In Waylaid by Islands, published in the November 2007 edition of The Bottle Imp, Margaret Elphinstone recounts her enthusiasm for the islands, real and imagined, which feature prominently in several of her novels.

Her short story The King's Daughter of Norroway appears in the collection Sea Stories published in 2007 by the National Maritime Museum to mark its 70th anniversary.

Margaret Elphinstone's short story On the Run appears in Cleave, the compilation of short fiction, non-fiction and poetry by women who live in or otherwise 'belong to' Scotland, recently published by The Two Ravens Press.

Kipling's Questionnaire
Margaret Elphinstone has completed Kipling's Questionnaire in The Vermont Views Magazine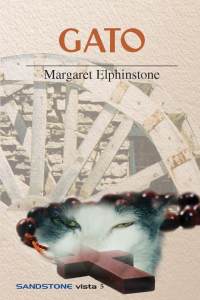 Gato
Gato, set in the Middle Ages, is the story of a young child growing up in a mill where the quiet hardworking inhabitants are disturbed by the arrival of a wandering Spanish Friar. The child tries to work out what is going on between the miller, his wife and the Friar. The only creatures the child is able to love are the mill cats. After the Friar's stay, there is always a cat called Gato (Spanish for cat).

Gato is published by Sandstone Press in collaboration with the Highland Adult Literacy partnership primarily for unaccustomed or emergent adult readers. Gato is available in an audio version. ISBN 0-9546333-6-9

The early novels
Islanders
Islanders opens with a shipwreck on Fridarey (Fair Isle) off the north of Scotland in the 12th century, when the island was under Norse rule. The only survivor, Astrid, is washed ashore and taken in by an island family. She is determined to leave as she struggles against unfamiliar ways and traditions in a small community, riven with familial tension and conflict.

Originally published by Polygon, Edinburgh 1994. 452pp. ISBN 0748661786. Now republished by Kennedy & Boyd
A Sparrow's Flight
A novel in a kind of future which bears a strong resemblance to the past. Two travellers, Naomi and Thomas, embark on a month-long journey which parallels the inner journey that each has also to make. The journey forms a spiral: it takes the characters into the heart of a wasteland - a combination of actual place, literary mythology and the realisation of contemporary fears.

Originally published by Polygon, Edinburgh 1989. 227pp. ISBN 0748660259. Now republished by Kennedy & Boyd

The Incomer or Clachanpluck

Originally published by Women's Press, London 1987. 229pp. ISBN 0704340704. Now republished by Kennedy & Boyd

A passage from The Incomer, has been set to music by Lesley Lear and Gilly Fordham in a choral piece entitled The Hope of the Land. This was first performed at Il Piccolo Coro: A centenary celebration of Tippett and his contemporaries at Holy Trinity Church, Stroud, in February 2005.

The Hope of the Land


In the beginning was the land, sufficient to itself.
It flourished through timeless years and nourished itself,
Drawing water down from the sky and offering the same water back to the sea.
Earth and air, fire and water, drew together and offered their own being that the land might be.
People were brought to birth by the land, and took so much of the gift of knowledge
That they were given also the power to perceive, and change the world.
They explored, and the possibilities were limitless.
They created space and time, and where there had been only infinity there were now lines and limitations.
And the people began to fear what lay beyond the boundaries they had made.
The threat they'd created pressed against the boundaries and pushed through.
Thinking that all was destroyed, they set about destroying it.
The hope of the land was all that was left, the dream of the land was untouched.
The land was not confounded by space and time.
The land is the creator and nurtures all.
The only way to destruction is the destruction of the land.
The elements that created the land live in our bodies.
We are born, we bring to birth, and we die, and the land takes us.
What is done to us is also done to the land, and what is done to the land is also done to us.
There is nothing else.

Short stories
An Apple From a Tree

An Apple From a Tree is a collection of short stories originally published by Women's Press, London 1991. 261pp.ISBN 0704342812. It has now been republished with additional material by Kennedy & Boyd
Short stories from this collection have been reprinted in Scottish Literature in The Twentieth Century: An Anthology, Scottish Writers in Bulgaria 2001, An Anthology of Scottish Literature, The Oxford Book of Short Stories 1995,
Within the Hollow Hills 1994, The Book of Myth and Magic 1992.

Sir Walter Scott abridged
Waverley and Heart of Midlothian retold!
Some classic authors are considered so 'difficult' that their works are unread today, even though they were celebrity writers in their time. Sir Walter Scott is an obvious example. The pioneer of the historical novel and an international sensation in the 19th century, his novels are now neglected.

Margaret Elphinstone has joined forces with Real Reads to bring Scott's novels back to life for 21st century readers. Her retelling of Waverley [ISBN 978-1-906230-42-5], a key text in understanding Scotland's sense of national identity, has been joined by her retelling of Heart of Midlothian [ISBN 978-1-906230-41-8] a thrilling story of riot, lynching and a girl's terrifying journey to save her sister's life.